Venerating Your Ancestors
Venerating Your Ancestors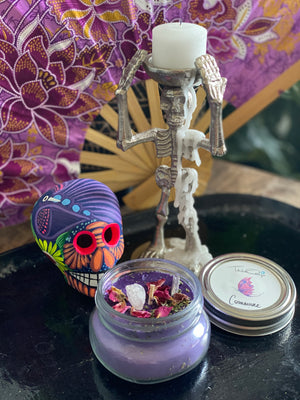 We hope that you caught the latest episode of the Pillars, the Porch and the Path. No matter where you are on your own spiritual journey, honoring and understanding your ancestral lineage and connection is important. For some with family trauma, that journey may be painful, and for others it may be full of discovery. Each experience is different and getting started can be confusing. 
That is why one the first candles in my spiritual collection was the Commune candle. It is a tool to connect this world to that of our ancestors. It is the foundation of a sound spiritual practice. To know and honor your ancestors is to know your own destiny.
 An altar staple, the ancestor candle, shows reverence to your ancestors and includes a ritual to get you started. The amethyst provides spiritual protection and rose quartz provides a beautiful expression of love & devotion to our ancestors. It is the source of our àsé, or power.
In this more simplified candle striking deep purple rose petals and other botanicals are featured. (All cultivated in my sacred space/garden.) Each layer builds as you work your included ritual. You collect the natural crystals & gemstones buried within.
It's not just a candle, it's a daily practice to incorporate your path seamlessly into your daily ritual of living.