Using Our Sound Sleep Altar to Fight Night Terrors
Using Our Sound Sleep Altar to Fight Night Terrors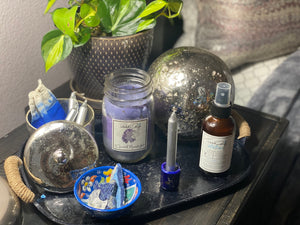 The Altar
This month we are focusing on building foundations for a happy home. We started with altar cleaning and refreshing all our home altars. It is no secret that I feel altars are works of art, so I have many!
Above, I shared our Sound Sleep altar! I included my Eternal Moonlight candle. It can be used for various lunar work, and I use it on this altar to draw down the Choctaw Moon Goddess, Hvashi, for protection & guidance. I also have small silver chime candles for my son as well. Moonstone, Kyanite, and Sodalite are all included on the altar. I love these beautiful stones for sleep support and dreamwork development.
I also use these stones and Lavender to make small mojos that I slip into our pillowcases. All the things we need on any night are ready right by my bedside! The altar, however, is only the beginning.
Our Night Terror Struggle
My little one suffers from night terrors, and this altar has worked wonders. Night terrors vary from regular nightmares in that our son will leave the bed, wandering and crying, but not awake. Therefore, even at 7, he cannot articulate what is happening because he is technically still asleep. Since we began this ritual, he has stopped wandering at night, sleeps soundly, and is comforted by his routine.
Sleep work can be important for children. Their nocturnal patterns can signal stress as they grow and learn to cope with different stressors. He is also my intuitive kid, so he has a tendency to carry emotions more intimately and needs support to release and decompress at night. This ritual has allowed us to support him physically and emotionally when he needs it.
Our Bedtime Ritual
We begin by setting a specific time to start our sleep ritual. We cut the electronics and picked a book to read. I love to read titles that have diverse perspectives. I am currently in love with "I Am Smoke" by Henry Hertz and illustrated by Merce Lopez. As a fire sign, it is incredible!
I light my Eternal Moonlight candle and a small silver chime candle for my son on the altar while he bathes. I worked on a petition filled with intentions, including a request for protection and guidance as he sleeps. As he bathes and plays in the water, I ask him to pretend he is having his best dream and act it out with his bath toys. After hitting the tub and getting in pj's, we read and ready our sleep space.
His Sleep Space
We check for our mojo bag that we placed in our pillowcase, which contains three Moonstones to connect with calming lunar energy. I also include Clear Quartz for amplification and Kyanite for peaceful and insightful dreams. I use a touch of Lavender for calming as well.
We use two large stuffed animal "guides" that sleep with him. His pet Sharky and
Megatron are currently on duty. I use a double-folded blanket as a lighter alternative to a weighted blanket. (He does NOT like to be too hot.) We minimize the light and say goodnight. The ritual is calming and predictable. Any crabbiness or anxiety usually melts away by the time we are placing his "guides."
Of course, you can vary your ritual to fit your needs. The most important things I have found to be successful are:
Make sure the tools are easy to use and convenient, so you are ready no matter what the night brings, consistently will make you successful.
Our son helps guide the ritual by taking care of his mojo and selecting his guides, so he is part of the magic and leads us in the direction we need to go.
He and I are working together, which allows his confidence in setting his intentions & personal power to grow.
I hope that this nighttime ritual is helpful and inspires you to make one of your own. If you need crystals or candles, take a minute to look at our website for your spiritual needs. I recommend our polished Moonstone and our Eternal Moonlight candle to draw down the moon.