The Reverence Candle
The Reverence Candle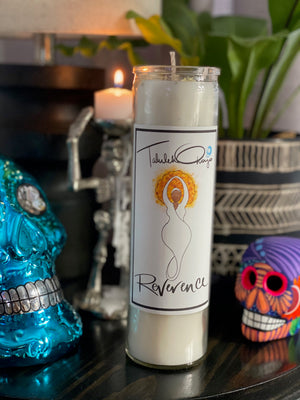 I love each original piece of art on our candles, but this one was my first candle and built the unique process used to make each candle today. An altar staple, the white candle, shows reverence to Spirit, Goddess or your personal spirit guide. The turquoise skull represents communication with our ancestors. It is the source of my àsé and connects me to the community and world around me. It is also a talisman in our logo at Taluleh Ohoyo!
 In this more simplified candle hyssop and other botanicals are featured. (All cultivated in my sacred space/garden.) Each layer builds as you work your included ritual. You collect the natural crystals & gemstones buried within. It's not just a candle, it's a daily practice to incorporate your path seamlessly into your daily ritual of living.
Explore this candle and more in the Spiritual Candle section of our store.